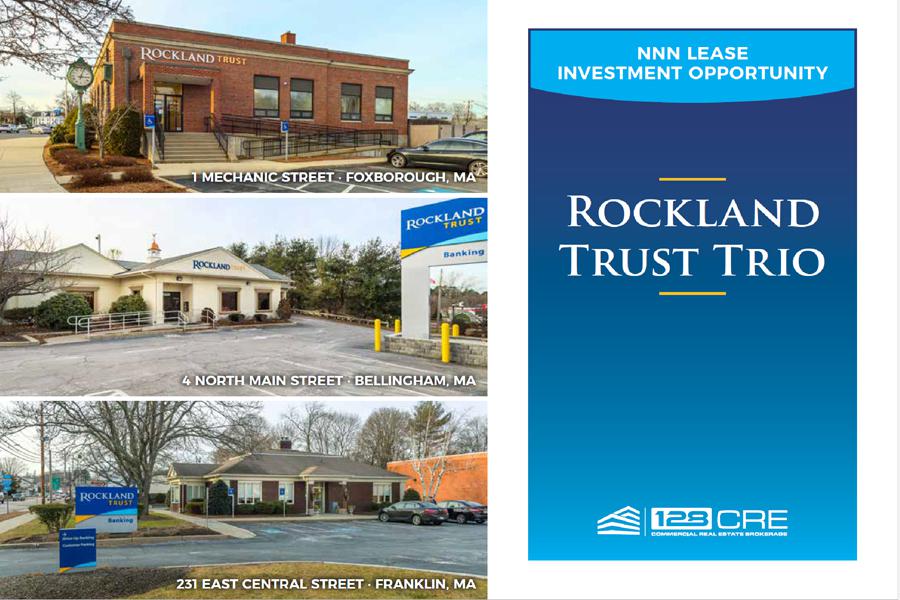 Commercial Property For Sale
128 CRE, in conjunction with Austin Smith is pleased to present the opportunity to acquire three individual single tenant bank buildings leased to Rockland Trust. The three buildings known as The Rockland Trust Trio are located within the I-495 cities of Foxborough, Bellingham and Franklin are being offered for sale as a package, however a sale of the buildings individually will not be ruled out.
Each of the three buildings benefit from a base lease term through 2021 and have committed to option renewals through 2026, offering a stabilized return for an investor. The original leases were signed by Benjamin Franklin Bank. The credit you will be receiving is from Rockland Trust Company. Great credit tenant, solid remaining term and strong underlying real estate make The Rockland Trust Trio a compelling investment opportunity.
The Rockland Trust Trio consists of, 1 Mechanic Street, Foxborough, 4 North Main Street, Bellingham and 231 East Central Street, Franklin are being offering for sale using "guidance pricing". We will be conducting tours of the assets in the coming weeks and announcing a "call for offers" date to follow.